Description
LED Receiving Card Characteristics of MRV300-1 NOVASTAR LED Controller of LED Display
Single card outputs 16-group of RGBR 'data, can be extended to 32-group; 
 Single card outputs 20-group of RGB data; 
 Single card outputs 64-group of serial data, can be expanded to 128 -group; 
 Single card support resolution 256x128,200x200;
 Support configuration file readback; 
 Support program copy; 
 Support temperature monitoring. 
 Support Ethernet cable communication status detection; 
 Support power supply voltage detection; 
 Support high gray scale and high refresh rate of most type of drive IC; 
 Support low brightness and high gray scale mode of common drive IC or drive IC with current gain; 
 Support pixel by pixel brightness and chromaticity calibration. Brightness and chromaticity calibration coefficients for each LED; 
 Support pre-store picture setting; 
 Comply with EU RoHs standard; 
 Comply with EU CE-EMC standard;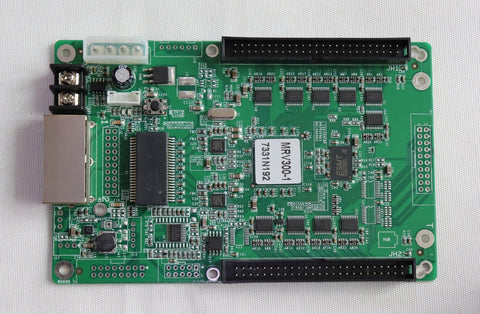 Payment & Security
Your payment information is processed securely. We do not store credit card details nor have access to your credit card information.