Description
Introduction of Colorlight i5A-907 Full Color LED Receiver Card:
i5A-907 is specially designed for the compact and portable LED screens, such as LED color screen and casting aluminum cabinet.
It has mini size and inherits all the advantages and features as i receiver series have.
Features of Colorlight i5A-907 Full Color LED Receiver Card:
Mini size most suitable for the compact structure designs ,like color screen and casting aluminum cabinet
2) Power supply from pin board without the need of external power supply
3) High refresh rate, high gray scale and high brightness
4) Better detail processing: Partial dark at row, reddish at low gray, shadow problems can be solved.
5) Support normal chip, PWM, lighting chip
6) Support any scan mode from static to 1/32 scan
7) Supports in Brightness and chromaticity calibration
8) Support various freeform display, spherical display, diamond display, creative display, etc
9) Support signal output for 16 groups of RGBR' and 24groups of RGB
10) Large load capacity
11) Advanced design, high quality components, rigorous aging test, zero malfunction of final products
12) Wide working voltage range with DC3.3 -6V
13) Compatible with iT7, iQ7, iQ7E,gigabit NIC, etc.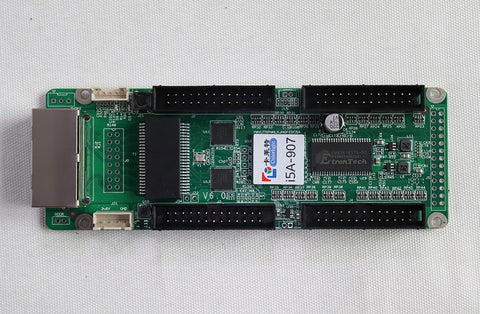 Payment & Security
Your payment information is processed securely. We do not store credit card details nor have access to your credit card information.