Description
The MCTRL660 PRO is a professional controller developed by NovaStar. A singleMCTRL660 PRO has a loading capacity of up to 1920×1200@60Hz. lt allows usersto customize resolutions to configure ultra-large screens with ultra-width or ultra-height.
The MCTRL660 PRO has various video connectors:
Input connectors: 1 ×3G-SDI,1 × HDM 1.4a, 1 x single-link DVI.Output connectors: 6 x Gigabit Ethernet port, 2 × 10G optical port.
Loop output connectors: 1 ×3G-SDI LOOP,1 × HDMI LOOP,1× DVI LOOP.The MCTRL660 PRO has many industry-leading advanced technologies:
lnput of ultra-high color depths, such as 10-bit/12-bit 4:4:4, with input resolutionsup to 1920×1080@60Hz, increasing color expression capabilities by 4096 timescompared to 8-bit inputs, and presenting images with rich and delicate colors,smoother transitions, as well as clearer details.
Independent Gamma adjustment of RGB, effectively controlling image non-
uniformity under low grayscale and white balance offset to improve image qualityA low latency of less than 1 frame (≤ 10 lines)
Dual working modes: working as sending card and fiber converterOne-click backup and recovery, quickly recovering previous screenconfigurations to deal with sudden on-site failure.
lmage flipping, making stage effect more cool and dazzlingAuto LED screen configuration
Web control
Pixel level brightness and chroma calibrationMonitoring of inputs
Multiple MCTRL660 PRO units can be cascaded.
The MCTRL660 PRO is mainly used for the rental and fixed fields, such as concerts,live events, security monitoring centers,Olympic Games and various sports centers.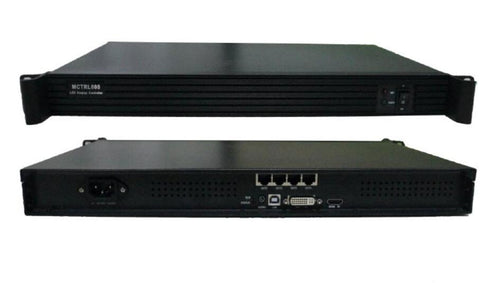 Payment & Security
Your payment information is processed securely. We do not store credit card details nor have access to your credit card information.