Description
The MCTRL660 PRO has a variety of video connectors:
Input connectors: 1 × 3G-SDI, 1 × HDMI 1.4a, 1 × single-link DVI
Output connectors: 6 × Gigabit Ethernet port, 2 × 10G optical port
Loop output connectors: 1 × 3G-SDI LOOP, 1 × HDMI 1.4a LOOP, 1 × DVI LOOP
The MCTRL660 PRO has many industry-leading advanced technologies:
Input of ultra-high color depths: 10-bit/12-bit RGB 4:4:4/YCbCr 4:4:4, with input resolutions up to 1920×1080@60Hz, increasing color expression capabilities by 4096 times compared to 8-bit inputs, and presenting images with rich and delicate colors, smoother transitions, as well as clearer details.
Supports individual Gamma adjustment for RGB when the color depth of input source is 10-bit or 12-bit, which effectively controls image non-uniformity under low grayscale and white balance offset to improve image quality.
Low latency: Less than 1 ms (when the start position of image is 0).
Dual working modes: working as sending card and fiber converter.
One-click backup and recovery, quickly recovering previous screen configurations to deal with sudden on-site failure.
Image mirroring, allowing for more cool and dazzling stage effects.
Auto LED screen configuration.
Web control.
Pixel level brightness and chroma calibration.
Monitoring of inputs.
Multiple MCTRL660 PRO units can be cascaded.
The MCTRL660 PRO is mainly used for the rental and fixed fields, such as concerts, live events, security monitoring centers, Olympic Games and various sports centers.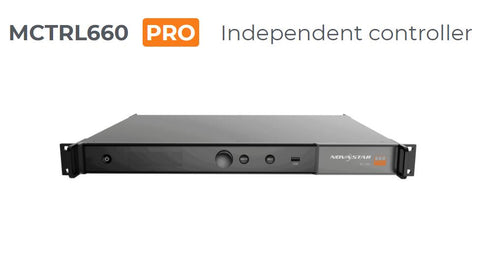 Designed with
 

global rental applications

 

in mind
High image quality
Ultra Low Latency
Mirroring & Rotation
Easily Switch
Stable & Secure
More detailed &
realistic image
Supports 10bit/12bit depth, an increase of 4,069 times over the 16.7 million colors provided by 8bit, for a more detailed and realistic image.
1920×1200@60Hz loading capacity, RGB independent Gamma adjustment, and point to point brightness and color calibration all work to provide a more realistic and detailed image
Low latency, with less than 1ms delay,
for ultra-smooth synchronized display.
With video source output of less than 1ms, latency is effectively unnoticeable. This ensures high-quality display of content, with no need to worry about the negative influence of latency on a presentation.
With latency
With less than 1ms delay
Image mirroring and rotation
provide a creative and flexible stage.
Support for mirroring and rotation of a single or dual ports, allowing a stunning effect with the push of a button.
Easily switch
between a variety of application presets
6× 1G network port outputs, and 2x 10G optical outputs. Support for sending/optical transmission mode switching. increasing transmission speed, while making long-distance transmission easy. Saves on operating cost and convenience.
Multi-layeres protection methods
One-button restore from backup. Support for Web control and input monitoring, to eliminate problems as soon as possible.
One-button restore from backup
Web Control
Input Monitoring
Payment & Security
Your payment information is processed securely. We do not store credit card details nor have access to your credit card information.