Description
The MSD600 is a sending card developed by NovaStar. It supports video and audio
inputs, and sends them to the display after decoding and data processing
. The
loading capacity of an MSD600 can be up to 1920×1200@60Hz. It communicates
with the computer through USB port, which is very convenient.
The MSD600 can be mainly used in fixed and rental applications, such as live events,
monitoring centers and various sports centers
*  1 × DVI input
*  1 × HDMI 1.3 input
*  1 × audio input
* 1 × light sensor connector
*  Resolutions up to 1920×1200@60Hz
*  4 × RJ45 Gigabit Ethernet outputs, capacity of each up to 650,000 pixels
*  1 × type-B USB control port
*  UART IN and UART OUT control ports for device cascading
* Support for the new generation of NovaStar calibration technology, which is fast
and efficient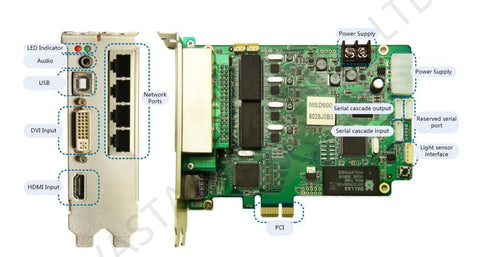 Payment & Security
Your payment information is processed securely. We do not store credit card details nor have access to your credit card information.